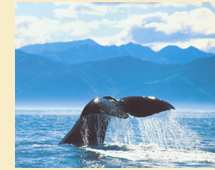 New Zealand is often overshadowed by its larger neighbour, Australia, which is a shame because it has so much to offer in its own right. New Zealand is made up of two main islands, each 600 miles long, but has only 3 million people, over a million of which live in Auckland, which means that outside the cities there is a wonderful sense of space. The country is incredibly beautiful with crisp, clear air and a wonderful quality of light. The spectacular scenery is varied with high mountains (Mount Cook rises to over 12,000 ft (3,700m) in the South Island and several active volcanoes rising to 8,000 ft (2800m) in the North Island, lush green fertile plains, large clear lakes teaming with fish (even I caught a salmon one afternoon as a novice fisherwoman) and beautiful, often deserted beaches. There is so much to see and do - walking, glacier hiking, climbing, canoeing, whitewater rafting, wine tasting, riding, whale watching and swimming with dolphins. The best thing about New Zealand is the people - down to earth, honest and friendly, always ready to have a chat and pass the time of day - and a great way to meet them is to stay in a B&B, on a farm, in a boutique hotel or in a small lodge.
• SMALL GROUP TOUR - This 19-day itinerary combines the best of New Zealand's North and South Islands. The itinerary includes the Coromandel Peninsula, the geothermal landscapes of Rotorua, Franz Josef Glacier, Napier and the vineyards of Hawke's Bay, the picturesque adrenalin capital of Queenstown, the Fjordlands and stunning Milford Sound and Dunedin, the 'Edinburgh of the South'. Cost from £4994 per person including flights (22 days total) and £3490 land only per person.
• SELF DRIVE TOUR - It is a real pleasure to drive in New Zealand because of its uncongested roads and fantastic scenery and a self-drive tour is an ideal way to travel when there is so much to see and do. The accommodation is booked in advance so there is no need to worry about where to stay, but driving yourself gives a degree of independence. Seven days driving around the North Island provides the contrast of the city of Auckland, Rotorua with its towering geysers, bubbling mud pools and coloured craters, Napier and the Wine Country and Wellington, the capital city. Cost from £676 per person (land only).