| | |
| --- | --- |
| | VIETNAM |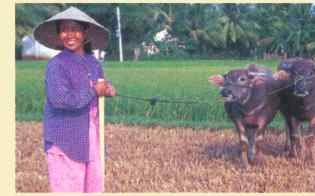 Fourteen years after my first visit to Vietnam and twenty or so visits later, I find myself looking forward to returning there each year. I still marvel at the patchwork of greens that stretch into the distance and make up the endless rice paddies that cover much of the country. The coastline is unspoilt with very little development and it is easy to find a secluded beach with nothing but the white sand and aquamarine sea. I even have my favourite towns and strangely enough each one starts with an H - Ho Chi Minh City, Hoi An, Hue, Halong Bay and Hanoi. Ho Chi Minh City, still fondly called Saigon by the locals, is as brash as Hanoi is conservative and I love the frenetic activity of the former and savour the elegant colonial architecture and tranquil lakes of the latter. Hoi An, an ancient town in the centre of the country is great just to hang out in the many cafes and it is where I do much of my Christmas shopping. In Hue I enjoy renting a bicycle to explore the imperial mausoleums and on one of the islands off Halong, far from the lights of the mainland, I spend the evenings watching for shooting stars and listening to the silence. I never tire of this delightful country and its friendly, fun loving people.

| | |
| --- | --- |
| | HOLIDAY SUGGESTIONS |

• SMALL GROUP TOUR - the highlights of Vietnam can easily be seen in a 15-day tour that starts in the capital Hanoi, followed by a boat trip around spectacular Halong Bay and then joins the famous Reunification Express train to journey to the centre of the country. Here, time is spent in the old imperial capital of Hue and the unique atmosphere of the ancient town of Hoi An before continuing south to the beach resort of Nha Trang and on to vibrant Saigon and the waterways of the Mekong Delta. Cost from £1678 per person including flights.

• TAILOR MADE TOUR - a 14-day tour of Vietnam, which can be incorporated into a longer tour of South East Asia or en route to Australia or New Zealand, can be undertaken on an individual basis with your own English-speaking guide escorting you to help you get the most out of your trip. This itinerary takes in the main places of interest of Hanoi, Halong Bay, Hue, Hoi An and Saigon. Cost from £1190 per person (land only).

CALL US ON 0117 929 4123 TO SPEAK TO A TRAVEL ADVISOR
Open by appointment only Monday to Friday 10-4pm.

| | |
| --- | --- |
| | LET OUR IN DEPTH KNOWLEDGE WORK FOR YOU |